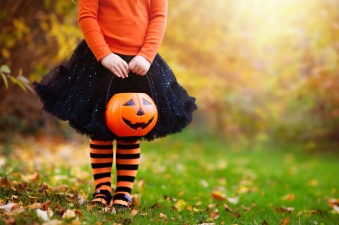 Halloween is right around the corner which means a stockpile bag of free candy for both kids and adults. When all the excitement of costumes and candy die down do not forget that your teeth may need a little extra attention. Its ok to eat candy on Halloween, but it is important to have a plan. Be sure to follow the tips below maintain good oral hygiene.
TIMING
Eat candy and other sugary foods with meals or shortly after mealtime. Saliva production increases during meals. This helps cancel the acids in bacteria rinse away food particles.
WHAT CANDY TO EAT
Try to avoid sugary candy that is either hard or stays in your mouth for a long time to avoid the role of tooth decay.
Sticky Candies: These can get stuck in the grooves and crevices of your teeth making it hard for saliva to wash it away. If you are already prone to cavities, sticky candies will only worsen your decay rate.
Sour Candies: These have a high acidy content which breaks down enamel making teeth sensitive and could lead to breakage and cavity formation.
Best choices are milk chocolate and snack sized packets of pretzels or crackers as they are less sticky and acidic. Even Dark chocolate as it contains antioxidants that stop bacteria from sticking to the teeth.
MAINTAIN A HEALTHY DIET
The healthy foods that you choose to eat helps your general health and that of your gums and teeth.
CHEW SUGAR FREE GUM
Sugar free gum that is made with xylitol helps the grown of tooth-protective and non-acidic bacteria which makes it almost impossible for bacteria and plaque to form.
BRUSH AND FLOSS TWICE A DAY
Do not forget to brush your teeth twice a day for two minutes and with an accepted fluoride toothpaste, following with flossing. The decaying causing bacteria can get between your teeth where a toothbrush cannot reach. Flossing or the use of a water pic helps remove plaque and food particles from between the teeth and under the gum line.
MAKE A DENTAL APPOINTMENT
Do not forget to make an appointment to see your family dentist for a professional teeth clean, oral hygiene instructions and even some x-rays to assess the health of your teeth and gums.
https://www.mellowdentalcare.com/wp2021/wp-content/uploads/2022/10/halloween.jpg
225
339
Mellow-Dental
http://www.mellowdentalcare.com/wp2021/wp-content/uploads/2021/08/mellow_logo.png
Mellow-Dental
2022-10-27 18:03:53
2022-10-27 18:04:15
Happy Halloween from Mellow Family Dental Care