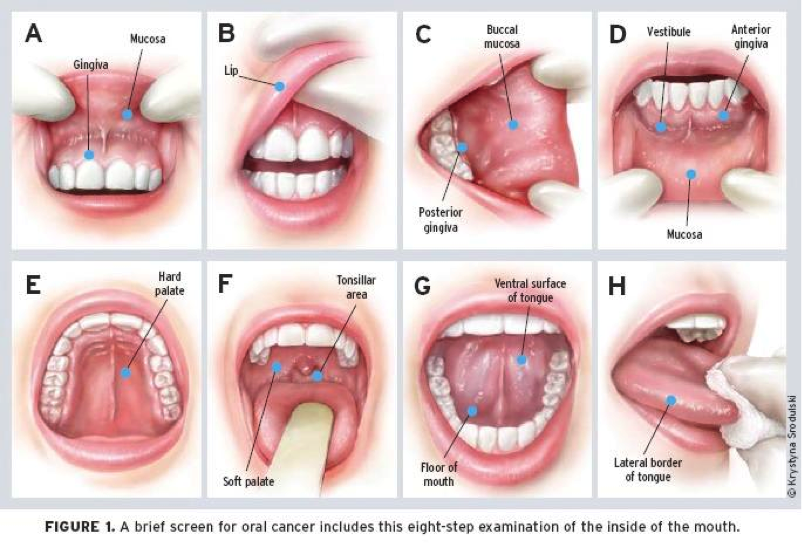 The dental exam is critical to your ongoing oral health—and only your dentist can perform this.
The exam consists, in part, of the dentist looking inside your mouth. In the past, you may not have ever realized an exam was taking place. Perhaps you thought the dentist was checking the work the hygienist had just completed.
Not so. The dentist actually looks in your mouth for things that can affect your oral—and your overall—health. Many of these are things you can't see on your own, but that a dentist is trained to detect. Here is some of what your dentist is looking for during a dental exam:
damaged, missing or decayed teeth
early signs of cavities
condition of your gums, such as periodontal pockets, inflammation or other signs of gum disease (which can lead to tooth and bone loss)
to see how previous dental work such as root canals, fillings and crowns are holding up
early signs of mouth or throat cancer, such as white lesions or blocked salivary glands
other suspicious growths or cysts
position of your teeth (e.g., spacing, bite)
signs that you clench or grind your teeth (a treatable problem that can cause headache or sore jaw and can, if serious, lead to hearing loss and tooth loss)
signs of bleeding or inflammation on your tongue and on the roof or floor of your mouth
the overall health and function of your temporomandibular joint (which joins the jaw to skull), checking for signs of disorders that can cause pain or tenderness
the general condition of the bones in your face, jaw and around your mouth
The dental exam can catch problems early—before you see or feel them—when they are much easier and less expensive to treat.
As well as the visual inspection of your mouth, the exam includes:
a complete medical history so the dentist knows about any health conditions that may affect the success of dental treatments or procedures or that may be associated with oral health problems.
It may also include: an examination of your neck area, with the dentist feeling the glands and lymph nodes for possible signs of inflammation that could indicate general health problems and dental x-rays, if necessary. These can show such problems as cavities under existing fillings, fractures, impacted wisdom teeth, decay under your gum line and bone loss caused by gum disease.
Your dentist may explain what's happening during the exam and give you a summary of the findings. If not, be sure to ask. As patient, you are a full partner in your oral health care.
FIRST VISIT FOR CHILDREN
The Canadian Dental Association recommends the assessment of infants, by a dentist, within 6 months of the eruption of the first tooth or by one year of age. The goal is to have your child visit the dentist before there is a problem with his or her teeth. In most cases, a dental exam every six months will let your child's dentist catch small problems early.
Here are 3 reasons to take your child for dental exams:
1)You can find out if the cleaning you do at home is working.
2)Your dentist can find problems right away and fix them.
3)Your child can learn that going to the dentist helps prevent problems.
Your dentist may want to take X-rays. X-rays show decay between the teeth. They will also show if teeth are coming in the way they should. Your child's dentist may also talk to you about fluoride.
Once your child has permanent molars, your dentist may suggest sealing them to protect them from cavities. A sealant is a kind of plastic that is put on the chewing surface of the molars. The plastic seals the tooth and makes it less likely to trap food and germs.
When your child goes for a dental exam, your dentist can tell you if crooked or crowded teeth may cause problems. In many cases, crooked teeth straighten out as the child's jaw grows and the rest of the teeth come in.
If they do not straighten out, your child may have a bite problem (also known as malocclusion). This can cause problems with eating and with teeth cleaning. It can also affect your child's looks and make him or her feel out of place.
Your dentist can suggest ways to treat this, or refer your child to an orthodontist. An orthodontist is a dental specialist with 2 to 3 years of extra university training in this area.
The dentist says my child needs a filling in a baby tooth. Since the tooth is going to fall out, why bother?
Some primary (or baby) teeth will be in your child's mouth until age 12. The tooth that needs to be fixed may be one of those.
ABOUT YOUR TREATMENT PLAN
Ask questions. It sounds simple enough, but sometimes we feel embarrassed to ask simple questions. There is no need to feel that way.
You will feel much better, and be able to make a better decision, if you understand the dental procedure that is recommended to you. If you don't say anything, your dentist may think that you already understand.
Here are some tips when asking questions. Ask:
If you can see any pictures of the procedure or what it looks like when it is done;
How many times your dentist has done this procedure in the past;
How much it will cost;
How long it will take;
If it will need to be redone in the future;
If there are alternatives to the procedure and if so, what are the pros and cons of each option.
The final decision about how and when to proceed with any treatment is yours. To help you understand what is involved in the treatment, your dentist may give you some printed material to read.
If you have already left the dental office without asking questions, call back later. Be careful about getting information from unknown sources, including sources on the Internet. Some of this information may not be reliable. After all your questions have been answered, if you are still uncertain, you may wish to get a second opinion from another dentist. Often, a second opinion will give you confidence that your dentist has planned the right treatment for you.
Here at Mellow Dental , we take pride in doing a very thorough detailed examination that is scheduled for an hour and are ready to answer all your questions /concerns
Serving the Tricities/ Pitt meadows and Maple Ridge areas.
SaveSave
https://www.mellowdentalcare.com/wp2021/wp-content/uploads/2018/01/exam.png
543
802
Mellow-Dental
http://www.mellowdentalcare.com/wp2021/wp-content/uploads/2021/08/mellow_logo.png
Mellow-Dental
2018-01-19 16:18:40
2021-10-19 22:06:15
What to Expect in a First Visit?